S.O.F.T. Ireland Newsletter 47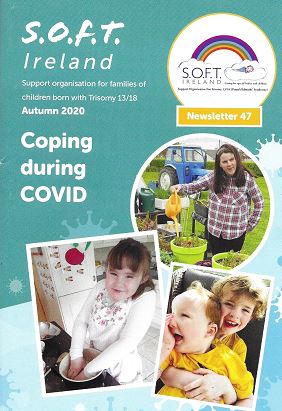 S.O.F.T. Ireland Newsletter 47
Autumn 2020
Our Newsletter has been posted to all members and will be dropping through your letterboxes right now. It's in the new A5 style and full colour.
It is a bumper edition with Family Stories, Information Articles, Photographs, Fundraising Activities, Joke Corner and more
It's a great read!
*****

It's a great way to communicate with our members.
The feedback is great.
A special thank you to our Newsletter Sponsors ACE Hire http://www.acehire.net/
Thank you to Alma as Newsletter Co-Ordinator
soft.newsletters@gmail.com
Thanks to everyone who contributed.
You can update your current email to any committee member.
Soft Ireland (Support Organisation for Trisomy 13 and Trisomy18)
Set up by parents for parents of Trisomy 13 and Trisomy18 children, SOFT Ireland is the Support Organisation for Trisomy13 and Trisomy 18 in Ireland.
It is a voluntary group dedicated to providing support for families of children born with Patau's Syndrome (Trisomy 13), Edwards' Syndrome (Trisomy 18) and related chromosomal disorders.
Support is provided during prenatal diagnosis, during the child's life and after the child's passing.