VHI Women's Mini Marathon early bird special before midnight 14 Jan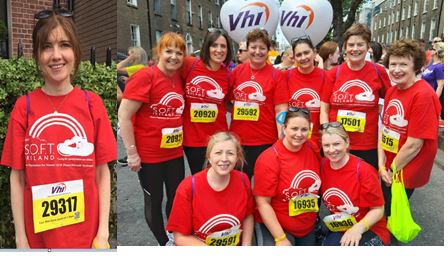 **Postponement of the
2020 Vhi Women's Mini Marathon**
On the advice of the relevant statutory authorities, the 2020 Vhi Women's Mini Marathon, scheduled to take place on Sunday May 31st, will be postponed. We understand this is disappointing but it is in the best interest of the community.
This decision has been taken in light of the growing threat presented by COVID-19.
The event will be re-scheduled to Autumn. We will confirm the date in the coming days.
The team at Vhi Women's Mini Marathon will continue to liaise closely with the relevant statutory authorities regarding the staging of the event and will update all of our participants in the near future.
The health and safety of our participants is our priority, and we would like to thank you for your support and patience at this time.
******
Dear Members, friends, relations and colleagues etc.
We are calling all ladies to participate in the
Sunday May 31st 2020 at 2pm
Walk, jog or run 10K in aid of S.O.F.T. on Bank Holiday Weekend. It's up to you but most walk it! Friends, relations and colleagues can participate in the Mini Marathon for SOFT. This is the largest all women's event of its kind in the world! There is a wonderful atmosphere and it's a great experience.
It will be a great day out and SOFT will benefit. We are on their Charity List.
Entries (€ 25.00) NOW OPEN. Signup at www.vhiwomensminimarathon.ie
You can see fitness plans etc. on the website.
Vhi Health will accept Vhi Snap&Send as well as paper claims for €25 entry fee.
The race starts on Fitzwilliam Street Upper at 2pm and finishes on Baggot Street Lower in Dublin.
We'd also like to take this opportunity to let you know that the early bird special is available to buy here online
and comes with free postage of your race number. This offer will end on Jan 14th 2020
Otherwise your Race Number must be collected at one of the official number collection venues. We in SOFT can help if you have difficulty. You can get your race number posted to you but this postal option will close on May 3rd or sooner.
You can prepay on entry for medal engraving online with your entry. By prepaying, you will get a reduced rate of €6.50. The cost on race day is €8.
We will send a T- shirt, Sponsorship card and merchandise to you. We will all meet up at the Davenport Hotel for a photo before the race.
Feel free to circulate to friends, relations and colleagues etc.