00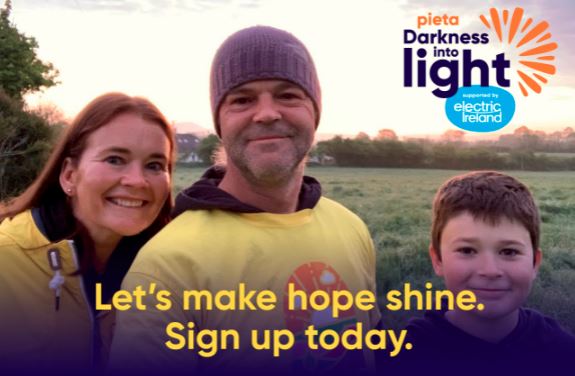 Sat May 7th 2022​​​
Sunrise 5.39 am
This was the day that hope really started to shine.
Lots of SOFT people took part in "Darkness Into Light" in various places.

One sure thing was that everyone was up early to catch the sunrise around them.
This year thousands of people joined together in spirit by greeting the sunrise from beaches and back gardens, from fields and mountain tops – all to send the most amazing message of hope.
I will never forget how it felt that morning, standing together with friends and family to greet the sunrise together.
It was magical and very emotional.
This year we were glad that organised walks could resume safely across Ireland and the world. We looked forward to communities coming together again to walk from Darkness Into Light.
We were joined by an an extraordinary family of kind and caring people helping to send a powerful message of hope right across the world.
"We walked under one sunrise, holding in our hearts for all those impacted by suicide and self-harm."
"Each and every year, your vital support enables Pieta to change the lives of thousands of people struggling with suicidal thoughts, or self harming. "
"Did you know that by taking part in this year's very special Darkness Into Light, you are not just be sending a powerful message of hope – you are actually helping to save lives.
"The truth is, no one is immune to anxiety. None of us can stop worry and stress coming into our lives. But what we can do is build our resilience and protect ourselves so that we are able to cope with the challenges we all have to face."
"We always say that hope is something we give to each other. And Darkness Into Light is an amazing way for us to reach out, support each other and give each other that hope."
"So take a moment to watch Sinead's video and learn about the simple steps you can take to protect your own mental health today."
You can help us to make that hope shine even brighter.
"There is just one year to go to next year's Darkness Into Light and the excitement is really starting to build".