S.O.F.T Ireland
The Support Organisation for Trisomy 13 and Trisomy 18
Fundraising 2023

Charity Reference Number (CHY) 10554
Registered Charity Number (RCN) 20027094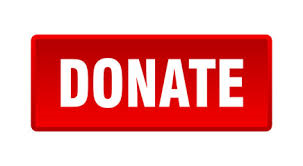 Donations
We now have a DONATE button on our front page and on our website which makes it very easy for people to give us much needed funds. This is ideal for multiple small donations.
This will channel donations directly to S.O.F.T. Ireland, The Support Organisation for Trisomy13 and Trisomy18 in Ireland.
But if you do a normal fundraiser and want to get the proceeds to us then please just contact soft.treasurer@gmail.com. Also if anyone would like to fundraise for SOFT through a CAUSE with an online DONATE facility please contact us at info@softireland.com
Don't forget to keep an eye out for an opportunity within your workplace. Sometimes companies and/or social committees look for charities to donate to. Don't be afraid to put SOFT Ireland forward as a recipient.
Contact the Fundraising Committee for merchandise and publicity.
Always keep track of monies received in & out.
Approach local businesses for help & support with spot prizes.
Talk to Gardai regarding raffles or selling tickets and permits.
Acknowledge a "Thank You" to everyone who helped & supported.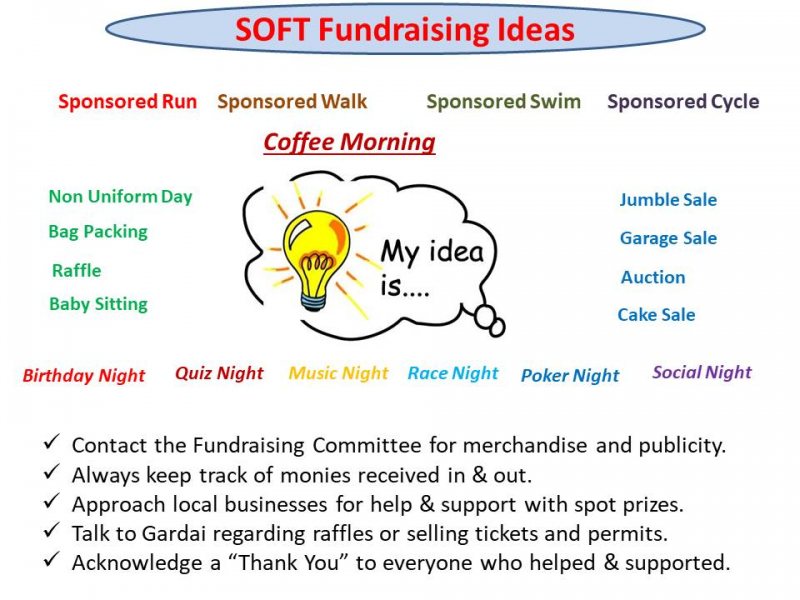 *****
Happy New Year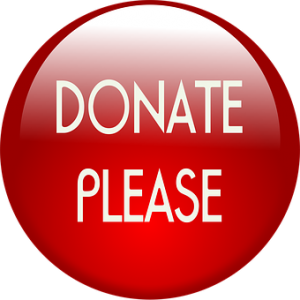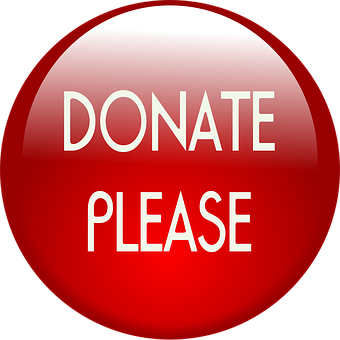 SOFT Ireland is appealing to members of the general public for a donation to our charity during the New Year period as it is the season of good will.
We support families during pre-natal diagnosis, during the child's life and after the child's passing.
Fundraising and donations are our main source of income and that is challenging in these difficult times.
Let's spread the generosity.
*****
Vhi Women's Mini Marathon Sun 4th June 23

Congratulations to Ann, Jane, Caroline, Paula and Natalia for finishing the VHI Women's Mini marathon in Dublin on Sun 04 June 2023. That's it for What's Another Year for SOFT ! The weather was good and a BIG improvement on last year ! Thank you to all our supporters. We met at Davenport Hotel beforehand for photo opportunity and briefing. Kept a good look out for the SOFT RED T Shirts winding their way through the streets of Dublin. The SOFT Crew stood out by a mile!
*****
Vanessa's Coffee Morning Ballyduff Kerry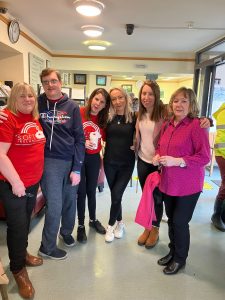 Vanessa's Coffee Morning Kerry for SOFT took place in Bud's Family Resource Centre, Benmore, Ballyduff, Tralee, Co. Kerry on Thurs 16 Feb 2023 10 am until 1pm. An enormous amount of effort has been put in for this occasion and many thanks to the staff, volunteers, Theresa and Vanessa for their efforts. Michael D "Items" knitted by Theresa will go down well! ….Bud's Resource Centre had all the teas and coffee … People from Tipperary and afar came along to support. Local community turned out in force to supported event. Was on Facebook and the Web and local paparazzi were present! … Here's to Michael D and hoping that there was one for everybody in the audience!
*****
The John Treacy 10-Mile Run Sun 5th Feb 2023


Moya and her friends did this run and raised funds for Oscar, who is part of our SOFT family. Wishing them good luck!
Triona Broderick, Julie Harty, Kate Higgins, Sarah Higgins, and Moya Verling ran the John Treacy 10-Mile Run for Oscar on Sunday 5th February 2023, in Dungarvan and helpedto raise funds for Oscar Fitzgerald who is an amazing 6-year-old boy with severe disabilities and complex medical needs. This is very close to their hearts as they are family and friends of Oscar, who is a gorgeous little boy born with a rare genetic condition: Trisomy 13/Patau Syndrome.
*****
Dunderry Coffee Morning Update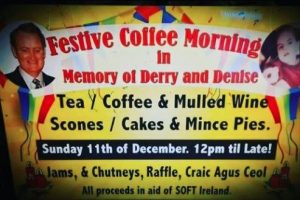 Took place on Sunday 11 December and started at 12 noon until late.
It was a very busy day with a steady flow of people from the surrounding area.
Many Thanks to Jackie and Ian O'Brien who were the hosts for this event,
There was plenty of mulled wine, mince pies, and all festive fare with home produce.
"The coffee afternoon was in memory of our dearest sister Dolly and Dad Derry, whom we all miss very much."
*****
SOFT Ireland Christmas Cards Fundraiser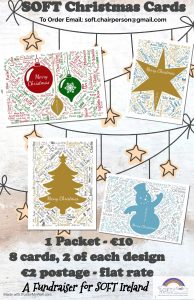 All our SOFT babies' names have been included in our newly designed Christmas Cards and there are four designs – baubles, snowman, tree and star.
Postage charged at a flat rate of no matter how many packets you buy!
Ann Rooney Chairperson S.O.F.T. Ireland
*****