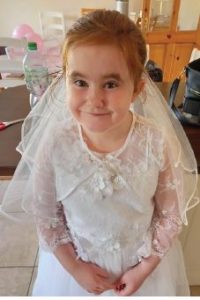 Sarah Jane's Story
By Michelle Newman
Sarah Jane was born in March 2012 by caesarean section after a normal pregnancy. There were no alarm bells during the pregnancy to alert us to any trisomy diagnosis. Sarah Jane weighed in at a healthy 7lb 11oz, and after five days in hospital, we returned home to a very excited big brother Sean to start into the routine that a new baby brings.
Sarah Jane was an exceptionally quiet baby and slept a lot. She would never wake up for her bottles and was having difficulties with drinking them when she did. As the days went on, it became almost impossible to get her to drink her bottle. We returned to our local hospital, where after a few days it was discovered that Sarah Jane had a heart murmur. We were transferred to Crumlin Children's Hospital for tests to determine the extent of the murmur. Sarah Jane had a large VSD, which would require surgery and so a plan was put into place where Sarah Jane would return for surgery at five months old. Due to the issues that she was having with feeding, Sarah Jane required an NG (nasogastric) tube, which was to be her main source of feeding in order for her to reach the desired weight for surgery.
We were home from Crumlin a few days when we got a call from our local hospital to come in for a meeting with the paediatrician. This was quite unexpected and on the way in we both had a feeling that something was not right. We were ushered into a room, given a bottle of water each and told that blood results that had been taken from Sarah Jane had returned to them and showed that she had Edwards' Syndrome and that she was not going to live long. We were absolutely devastated and the only thing I could ask was, "Are you sure?"
I tried to pull myself together to ask some questions; the answers to which I did not really want to hear. It was a Friday morning and the weekend passed in a complete blur. We had Sarah Jane christened and had family and friends calling over trying to support us and comfort us as best they could. We were all heartbroken and just wanted to hold Sarah Jane as close as we could for as long as we had with her. My brother-in-law made contact with S.O.F.T on our behalf and obtained a copy of the book, "Why our baby?" I read the book from cover to cover until I found the courage to ring S.O.F.T for myself and on doing so received the most amazing support. Patrick and Pauline Farrelly called to our house to meet Sarah Jane and offer us support and encouragement to aid us in this journey. They showed us so much kindness and we were and still are so grateful to them and to all the parents from S.O.F.T that helped us along the way.
The weeks turned into months and before we knew it, Sarah Jane was five months old. We returned to Crumlin, excited at the prospect of Sarah Jane having her surgery as at this stage she was starting to experience some difficulties due to her heart defect. The doctors were quite shocked to see us back and were taken aback by how well Sarah Jane was doing. They spoke to us about how the diagnosis of Edwards' Syndrome changed the plan and that surgery to repair her heart may not be the best option for her, but as Sarah Jane was doing so well, they decided to send her to the genetics department to have her bloods repeated before a final decision was made. We presented ourselves in the genetics department where Sarah Jane had repeat bloods and also a skin biopsy, where a little sample of tissue was removed from her leg for genetic testing.
The blood results returned a week later confirming that Sarah Jane had full Trisomy 18. Based on this result, it was advised not to go ahead with the surgery and to let nature take its course. We were heartbroken. The little bit of light at the end of the tunnel had faded and we were back to where we started, waiting for the inevitable.
Three days later and quite unexpectedly, I received a call from the genetics department in Crumlin to say that the results of Sarah Jane's skin biopsy returned and that they were contradicting the blood result showing that only some of Sarah Jane's cells had Trisomy 18. This changed her diagnosis to that of Mosaic Trisomy 18 rather than full Trisomy 18. This meant that her heart repair surgery was back on and within two weeks we were back in Crumlin preparing for the surgery. Sarah Jane did really well and one week later, we returned home. Six months after the surgery she was off all medication and doing very well.
Sarah Jane is now nine years old. She is a happy and very sociable little girl. She had been attending mainstream school and is in second class. She loves school and has made many friends along the way. This year Sarah Jane will be making the transition into special school and is looking forward to beginning a new chapter in her life. Sarah Jane loves meeting up with her friends from S.O.F.T twice a year and in particular loves the October break where she gets to dress up for Halloween and dance the night away.
The journey so far has been full of twists and turns and a few surprises thrown in along the way, but we are so lucky to wake up every morning to the most beautiful smile in the world.