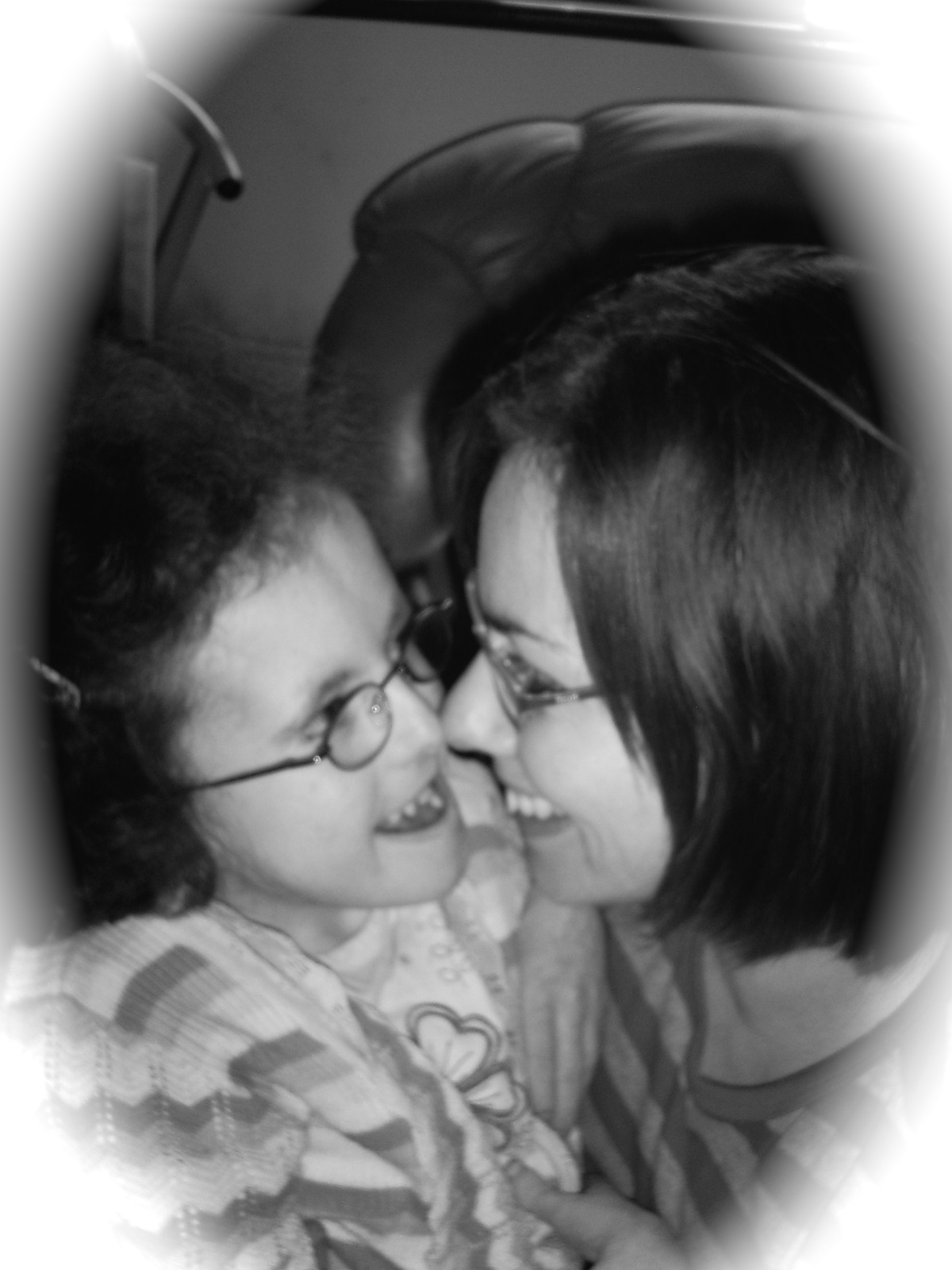 A Ray of Light
Elaine Fagan was born on a lovely sunny day in March 1986, a beautiful daughter for Kay and Michael of Garden Hill, Castleconnell and a welcome and much awaited sister for Nicola 10, David 7 and Brian 4. The initial joy an delight at Elaine's arrival however turned to anxiety and foreboding the following day, when Michael and Kay were called to the Consultants office where they were informed, in no uncertain terms, that their precious baby had a rare condition called Edwards Syndrome, meaning that she had an extra chromosome on pair18. Babies born with this genetic malformation usually do not survive more than a few days. Kay and Michael were told that they wouldn't be taking their baby home with them. The doctor explained that she "was like a car without an engine". They then had to break this devastating news to their other three children, Nicola, David and Brian, who were looking forward to having their baby sister home to dote on.
Instead of having a joyous homecoming with their new born baby, Kay and Michael were joined at her little crib by their children and the children's grandparents, keeping a constant vigil and all holding her in turns in their arms for the last time, as they had been informed by the medics. But Elaine had no intention of going anywhere once she sensed these strong feelings of love and devotion exuding from her new family! This little person weighing just 5 pounds and 1 ounce, fought for life with the tenacity and courage which has been tested several times since that day and is still apparent today. After three days had stretched into a week, Kay and Michael began hope. Although she had been christened, blessed and confirmed by several priest friends, her weight dropped to 4 pounds and she was being tube fed in a darkened room as her little eyes could not tolerate any light. But then gradually a miracle seemed to be taking place and over the next four months, Elaine began to gain weight and the Fagans were allowed to take her home just in time for David's First Holy Communion, which they celebrated at home surrounded by family.
Kay immediately set about weaning Elaine off the tube and on to a bottle an gradually introduce her to light so that she overcame her sensitivity to it. When she was six months old, Elaine developed serious kidney problems which thankfully are no longer an issue for her however she also developed a hiatus hernia which causes her tummy to to bloated and can be very uncomfortable.
On her first birthday, Nicola recalls that she suffered four massive heart attacks in quick succession and the family were once again preparing to loose their little baby … a grave was even organised for her in the cemetery … but with her inner resilience, and the help of an attending nurse who pumped her little chest, Elaine amazed the medical profession and rallied. However, she has been left with a serious heart defect. Over the years she has been rushed to the hospital on several occasions with various infections but she always manages to overcome these with her usual fighting spirit.
This fighting spirit is not just confined to her medical issues. Although Elaine cannot communicate verbally an has very limited mobility, she recognises all those around her and she attends St. Vincent's , Lisnagry every morning where she receives the stimulation and physiotherapy which is vital for her comfort an development. She loves it over there and recognises all the staff and her classmates. Her First Hold Communion stands out as a very special day for Elaine and her family. She looked so beautiful like a little angel and when the choir sang a song about a special child there was not a dry eye in the church… even the priest was emotional!
Her personality shines through whatever her adversities and she loves wrestling on the floor with her brothers, she is last to bed if there is to be any partying done and enjoyed her 21st in the Castletroy Park Hotel as the centre of attention! Elaine lives at home with her parents now that the others have fled the nest, and she requires 24 hour care so life revolves around her and she is brought everywhere with them. She has a very hearty laugh which raises the spirits of all who hear, especially her attentive and devoted family.
As she approaches her 25th birthday next March, Elaine Fagan has amazed the medical profession with her ability to survive against all the odds. She is making medical history by being the longest living person, with the condition in the world. It is ironic to think that she could not tolerate light as a baby, but is now referred to by Nicola as "a Sunflower, bringing a ray of light to very room she is in". The conclusion could be drawn that Elaine is blessed with her loving and dedicated family but it is apparent that the Fagan family feel blessed themselves to have Elaine wake up every morning with a smile for them, brightening their day and cementing a strong bond among them all.
Written by A. Berkery
For most people,when you mention Valentine's Day,a few things come to mind..flowers,chocolates,cuddly toys,cards and of course Love.
14th February 2011 for us will always be remembered as the day our beautiful smiling daughter Elaine was called back to heaven after 25 years of happiness and love .
A Tribute to Elaine Fagan 1986 – 2011
The attached link will bring you to a beautiful tribute to Elaine 11May2011
A Tribute to Elaine Fagan
For most people, when you mention Valentine's day, a few things come to mind – flowers, chocolates, cuddly toys, cards and love. 14th February 2011 for the Fagan family was remembered in pretty much the same way, as they celebrated the wonderful life of their beautiful daughter Elaine Fagan who passed away that day.
Elaine Fagan had been no stranger in the regional and national press and many readers have followed her family's fundraising efforts in the past few years. It is an honour to celebrate her life as we pay tribute to how she has touched the hearts of so many people.
Elaine had a condition called Trisomy 18, arising from an extra 18th chromosome being present in each cell. It is also referred to as Edward's Syndrome, named after Dr. Edward's when he identified the condition back in 1960. In Ireland both North and South, there are approximately seventeen babies born with Trisomy 18 every year. Of those who are born alive, less than 10 per cent will see their first birthday – most succumb within the first hours or weeks of birth. Medical complications usually include serious heart, breathing and feeding problems. Brain function is also affected. Given the very low survival rates, Elaine's 25-year life, is indeed something that must be celebrated. She was known to have been the longest survivor of Edward's Syndrome in the world. On this occasion however, this celebration has also come with much sadness.
As always, Elaine ensured that her appearance would attract a large audience and Fr Tom Hannon, celebrant and family friend was master of ceremonies for the afternoon's full-house mass. As the guests, who travelled from near and afar, settled, and the family brought Elaine to the front of St Joseph's Church in Castleconnell, the mood soon became a lot more sombre as the reality began to sink in.
Elaine was always at the centre of our fundraising activities. Whether it was a smiley photograph in the papers, the presentation of a cheque or just Elaine being there to show her resilience and determination inspiring other children with Edward's Syndrome – she created a great bond amongst her family, friends and anyone who met or knew her.
The congregation held their breath as Michael Fagan took the alter. This was going to be, without doubt, a heart wrenching few minutes. Even in this moment of sadness and loss, (being looked upon by his wife Kay, daughter Nicola with husband Greg and son Kyran, brothers Dave with his wife Suzanne, and Brian with his partner Claire) Michael was able to spend most his time thanking his own family, Elaine's carers at St. Vincent's Lisnagry and the staff at the Regional Hospital in Limerick, his S.O.F.T. family (Support Organisation For Trisomy), family G.P. and Fr. Tom Hannon, amongst others.
His emotional welcome drew specific attention to three words that embraced Elaine's life – "Sharing and caring". He spoke of hope and faith and applauded the dedication of the carers as well as his own family's faith and unreserved care they gave over the years and said that it wasn't luck that got her through, but love, kindness and care.
Elaine's condition brought with it many health-related uncertainties. Over the years, the Fagan's became to better understand these and equipped themselves to give Elaine a more comfortable life. But things didn't always go according to plan. A sudden bout of influenza or some other ailment often resulted in a visit to the Rainbow ward at the Regional hospital. Within moments plans for a holiday or social commitments were put on hold and attention was quickly diverted to Elaine's health. The incredible respite staff at St Vincent's Lisnagry that took care of Elaine allowed the family to rejuvenate and bring Elaine home as she recovered.
But does this not all take its toll on the family? Does it not get to a point where one begins to interrogate one's faith? For the Fagans, the answer is a simple but firm "no". They all played their own roles in the way they cared for Elaine. They bonded together and always had time for their wider family and friends. Most of all, their own faith never faltered. Their faith, not just in religion but in life, their friends and in those who cared for Elaine remained resolute, and meeting the family in their moment of sorrow and heartache confirmed their unity and outlook in life. For those of us who know the Fagans, there's no fear for the family's well-being. Of course, they will have their many moments of sadness, loss and emptiness, but from what Michael said at the alter, as certain as it is to see twinkling stars in the sky, their little "angel" will be looking down on them all to make sure they are all okay.
So while most of us left the requiem mass with memories of either meeting Elaine, seeing her artwork at the alter, looking at her angelic communion photo at the front of the church, or even just knowing about her through our own relationships with the family, we will all move on and return to our relatively normal lives pretty soon. Some of us will focus on "trivial" things in life and look at ways to overcome our own little problems. In our own times of hardship, perhaps we can reflect for a moment or so and look to the Fagan family's happiness in being so gracious and thankful for having Elaine for twenty five years when they didn't even think they would be bringing Elaine home on the day she was born.
Written by Haaris Sheikh