***
Dunderry Coffee Morning Update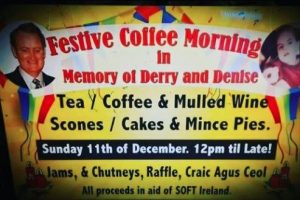 Took place on Sunday 11 December and started at 12 noon until late.
It was a very busy day with a steady flow of people from the surrounding area.
Many Thanks to Jackie and Ian O'Brien who were the hosts for this event,
There was plenty of mulled wine, mince pies, and all festive fare with home produce.
"The coffee afternoon was in memory of our dearest sister Dolly and Dad Derry, whom we all miss very much."
*****
SOFT Ireland Christmas Cards Fundraiser
*****
SOFT Ireland Melbourne Marathon 2022

Michael was part of Australia's largest marathon and race alongside marathon legends. Circle around Albert Park Lake, Flinders Street Station, pass the St Kilda beach foreshore and cross the finish line at the MCG to cheers from supporters, family and friends.
*****
Mercury Lilliput Legend Adventure Race 16 July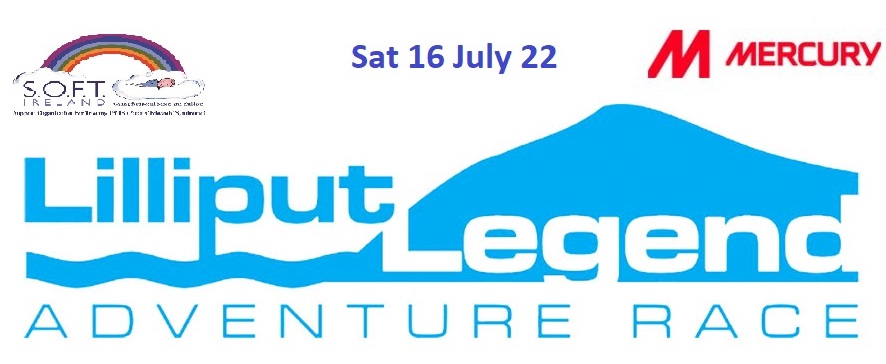 Mercury Lilliput Legend Adventure Race
A Team from Mercury will participate in the Lilliput Legend Adventure Race at Lilliput Adventure Centre, Lough Ennell, Co. Westmeath on Saturday, 16 July 2022. This all in aid of SOFT Ireland.
Mercury was founded in Dublin, Ireland in 1972 and is a leading European engineering contractor specialising in the provision of contracting, mechanical, electrical, fire protection and ICT Services across a range of key sectors.
S.O.F.T. Ireland is a voluntary group dedicated to providing support for families of children diagnosed and born with Patau's Syndrome (Trisomy 13), Edwards' Syndrome (Trisomy 18). Support is provided during prenatal diagnosis, during the child's life and after the child's passing.
The Lilliput Legend Adventure Race is an adventure race in Lough Ennell, Co. Westmeath on Saturday, 16 July 2022.
They are looking for your support through GivenGain and on the day in Lilliput.
Kayaking, Cycling and Running will test their ability and endurance with this team building exercise as well as supporting SOFT Ireland.
Kayak through the crannogs of King Malachy on Lough Ennell, Cycle through the splendour of the bog of Allen and run, stumble, hike, climb, over the extinct volcano that is Croghan Hill to one of Ireland's greatest viewpoints. The whole event is based from Lilliput Adventure Centre.
This course is ideal for first time adventure racers but still is demanding and challenging. The race has wave starts approximately every 30 minutes rated on ability and numbers
*****
Vhi Women's Mini Marathon Sun 5th June 22
*****
Family Outing & Printed Book Launch Sat/Sun 9/10 April 2022
*****
Support Trisomy Awareness Month Appeal March 2022
*****
Sphere17 Christmas Market
*****
Giving Tuesday A Christmas Gift
*****