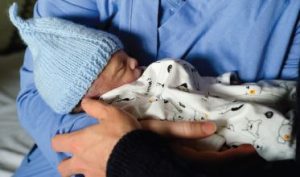 Danann's Story
By Maria Moynihan
**********
"There is only one way to start this column. And that is to say that I have a son. His name is Danann Atlas Riordan. It's a big name for a little boy. It's the perfect name for our boy."
It's just over two years since I sat at my laptop and typed these words.
Just two weeks before, my husband Danny and I had found out that our first baby was suspected to have Trisomy 18; better known as Edwards' Syndrome. That our first baby was more than likely going to pass away in my womb, or during labour, or in the seconds, minutes or hours after birth. That our first baby was not going to smile his first, gummy grin, babble his first garbled words or take his first, tentative steps into the world. That our first baby, in being born, was going to die.
Two weeks later, I sat down to write my last column in Irish Country Magazine for some time. I knew that it would be the most important thing I'd ever write.
In many ways, the hardest thing I'd ever write. But in one way, the easiest. Because this was a story that I needed to tell, and when you tell the truth, you just can't stop those words tumbling out.
And the truth was that our baby was not a diagnosis. Our baby was precious. Our baby was perfect. Our baby's life, no matter how short, had its own special purpose. Because our baby was Danann Atlas Riordan.
So as I sit here, trying to find the right words to start this story, I ask, what is the truth that I want- that I need- to tell now?
And it's that through the greatest loss of our lives, we discovered the deepest love of our lives. And that while we would have done anything to change Danann's diagnosis or prognosis, we would not change him or our time together.
Because no matter what it cost, he was worth it all.
**********
I didn't walk in to my 20 week scan on 20 June 2019 expecting to have the rug ripped from under me. Danny and I were going on holidays the next day, and I was hoping to get to the credit union after leaving the hospital.
Having had scans at eight, 12 and 16 weeks with no apparent issues, and not so much as a single wave of nausea during the pregnancy, I had no inkling there was anything wrong. My greatest concern was that the sonographer might let the baby's gender slip by accident, because we wanted "a surprise".
I knew that the purpose of the scan was to screen for "anomalies" (such an ugly word, I find it hard to even type it) and not to expect much chat. So when the sonographer suggested after 10 or 15 minutes that my husband and I take a short walk to try to "move the baby into a different position", I thought nothing of it.
Later I realised that this was to buy time to ring the consultant to come quickly.
I don't remember how she told us that there was a problem, except that she
placed a hand gently on my arm when she did. The consultant arrived. Several issues had shown up. We would be referred to a foetal medicine specialist in
Cork. Go home and wait for the phone call. Please don't Google. I remember asking, stupidly, if I should cancel our trip.
Yes, was the definitive answer.
We stumbled into the sunlight, paid the carpark fee, and drove home. "My baby is going to die," I gasped. "My baby is going to die."
Of course, I Googled. One of the problems we'd been told about was that part of our baby's stomach was outside the tummy wall. I discovered that this could be a condition called gastroschisis, a structural issue, but could be solved by surgery.
But the other medical term that kept coming up was omphalocele, which was associated with chromosomal conditions, including Edwards' Syndrome/Trisomy 18. Google reminded me that this was a genetic disorder caused by the presence of a third copy of chromosome 18. That this usually happens by chance, in 1 in 5,000 pregnancies. And that only 5-10% of babies survive past their first birthday.
No matter how hard I tried to cling to the first possibility, that statistic kept spinning in my mind. Danny begged me to stop searching, but I couldn't help myself. I spent that first night, seesawing between the best and worst case scenarios and running to the bathroom to dry-retch over the toilet bowl. It was summersolstice; the shortest night of the year.
The longest night of my life.
An appointment was made for 25 June. My 36th birthday. All morning, the phone pinged with well wishes. "This time next year, you'll be a mammy!" "The best is yet to come!" "Exciting times ahead!"
With our appointment scheduled in the late afternoon, Danny and I tried to distract ourselves. We went out for breakfast and I tried to stomach buttermilk pancakes. We called to a chapel to light a candle and to get a mass said. "For my baby," I told the parish clerk. "Oh lovely, what's their name?" she smiled. "I'm not sure," I stuttered. "Baby Riordan."
We did have a name, though. We had agreed that we would find out in Cork whether we were having a boy or a girl. If it was a boy, we'd call him Danann, a name derived from Irish mythology, and Atlas, after a poem we had at our wedding.
We'd also decided that even if we got the worst news, we would continue with the pregnancy as long as the baby led the way. This might not be the decision for everybody; but it felt true to us. I remember on the drive to Cork- the first of many that summer- that a Carly Simon song came on the radio:
"There's nothin' you can do to turn me away"
"Nothin' anyone can say"
"You're with me now and as long as you stay,"
"Lovin' you's the right thing to do"
"Lovin' you's the right thing."
I'm not sure I believe in signs, but those lyrics spoke to me, reinforcing what I knew already in my heart.
And yes, our specialist confirmed it was a boy. And that it was likely that he had Edwards' Syndrome due to a number of "markers": restricted foetal growth, a hole in his heart, turned feet, a cyst on his brain, the problem with his tummy. And the prognosis was exactly as we'd feared.
But I feel so grateful that even at that point, Danny and I never viewed Danann as his diagnosis. Instead, we saw a little boy who faced more challenges than a grown man could contemplate: but was still fighting for life. If we could keep him safe for as long as he was able to stay with us, we'd take and treasure every second.
**********
Not that this was going to be easy. I remember waking up that night, reeling.
How was I going to get through a labour without the blessed relief of my son's cry?
A maternity leave without my baby? How could I lay him to sleep in a graveyard plot, not a cot?
There is no rulebook for a pregnancy like this. Once I fell off the projected "pathway", there was really nowhere for me in the maternity world. How could I go to pregnancy Pilates or an antenatal class, browse in Mothercare or flick through "What To Expect When You're Expecting?" I felt like I was living on another planet. So it was up to us to make our own world, with Danann at the core.
From the start, I decided to be very open about our journey. They say it takes a village to raise a child. I say it takes a village to carry a couple through a situation like this. This includes the team at Cork University Maternity Hospital, in particular our consultant, Dr Nóirín Russell, and our bereavement midwife, Anna Maria Verling. There was nothing anybody could do to change Danann's condition. But what they did was treat him- and us- with the most tender care, always communicating clearly but compassionately, and celebrating every milestone.
And we did celebrate. We went ahead with a baby shower that my sister had been planning long before the diagnosis, but instead of gifts, I asked that friends write a letter or a card for Danann. They travelled from all over the country to be there; one friend, Asia, flew in from the UK as a surprise to take pregnancy photographs. It was such a special day.
And people found so many ways to show they cared. Hand-knitted hats and booties began to arrive in the post. A wooden star carved with Danann's name.
Watercolour paintings and personalised storybooks. Flower bulbs and sweetpea posies. One friend sent a baby sling, that it turned out she had kept for us, long after giving away much of the paraphernalia from her own two children.
"Whether you carry Danann with it, or carry him in your heart, he is the most loved little boy," she wrote.
I will never be able to thank our family and friends for their support. For the long walks, the saltwater swims, the cups of coffee, the thick slices of cake. For being there, body, heart and soul. They were the "Tuatha De Danann": the tribe of Danann.
**********
We continued to mark each week we had with Danann. We went for family day trips, booked a 3D scan, played him songs, read him stories, bought him toy tractors and teddy bears and took so many photos.
But the closer we got to our due date, the closer we inched to saying goodbye. And this was what we had to prepare for.
With Edwards' Syndrome, the placenta can also be affected and the tentative plan was that if there were any signs of failure, we would go for induction in the hope of having some precious time with Danann. This became our reality at nearly 38 weeks. The prospect of labour is daunting for any first-time mother; for me, it was terrifying. But I was fortunate that I found a wonderful midwife and hypnobirthing teacher, Mary O'Connor, who supported us to prepare as best we could for whatever lay ahead.
I can say that leaving home to go to hospital was one of the hardest things we ever had to do, knowing how unlikely it was that Danann would survive to come home with us. Looking back, I see that I could not allow myself to hope for anything besides a peaceful passage for our baby boy from this world to the next.
It's not the way it's meant to be.
**********
Danann was born sleeping at 4.45am on 19 October, his brave little heart flickering out towards the end of labour. There is no romanticising stillbirth; but I can say that to hold my son, to kiss his dark head of hair, to drink in his beautiful features, was the greatest privilege of my life.
While I recovered, Danny tenderly washed and dressed our long limbed little boy, swaddling him snugly in his colourful elephant blanket, before our family came to meet him, along with my friend Carol, who had travelled from Dublin to capture precious photographs of our time together.
And it was a happy time together; as hard as that might be to imagine. Thanks to the hospital staff, we were completely cocooned in love. The charity, Féileacáin, came to take Danann's handprints and footprints and gave us the use of a "cuddle cot", which meant we could keep him as close as we could for as long as possible. We also had Danann baptised and when we brought him back to Tralee, it was to a house filled with wild flowers and friends, who joined us for a "Welcome Home" ceremony. That night, we cradled our little boy in our bed. It was our first and last night at home together and we needed make every second count.
The team in Cork had arranged a small white casket to lay Danann to rest. No mother or father should have to place their newborn baby in a coffin. But we had brought Danann into this world. It was our job to carry him on the next stage of his journey, with dignity and love.
On the way to the graveyard, we stopped at the church where we got married, where our journey as a family began; a journey that would always include him.
And then it was time to say goodbye, in a place between the mountains and the sea, as we played "Rainbow Connection" by Kermit The Frog; a song we had sung to him so many nights before, his last lullaby.
**********
There is so much more I have to say. A maternity leave without your child is not natural. What place is there for a mother without her baby? Your old life is gone forever. And the new life you longed for looks nothing like the one you anticipated.
But being Danann's mammy gives me purpose. We talk about him every day.
We proudly show his pictures. When I send a birthday or greeting card, I sign off with, "Maria, Danny, and always, Danann Atlas."
And it's not just us. It's hard to explain the impact this little boy had on everybody around him. Friends- and complete strangers-have written from all over the world to tell me what he meant to them.
"He taught me what it means to be brave," one card read.
"I will think of Danann when I see a blue sky, a beautiful tree, a rainbow, or any other wonder of nature, because that is what he is to me: joy," wrote another.
"Danann, you have shown me that when life gets hard, we always have a choice about how we handle it; even if we are not aware of it," reflected another.
I could continue, but I think that our experience with Danann shows that even in the darkest times, you can still find light, if you look for it. And this is how I want people to remember him: as the light of our lives.
In December 2020, Danny and I welcomed our second baby, a beautiful little girl that we called Fallon. She has stitched our hearts back together in so many different ways, but at the same time, we long for Danann; and always will. Our only hope is that he will travel with us on our journey as a family of four, forever the big brother.
Because the truth is, I did not carry Danann for just nine months.
I'll carry him for the rest of my life.