S.O.F.T Ireland Fundraising 2019

Beauty and the Beast
The Lambeg Players Beauty and Beast went ahead in the Island Hall from Wed 02Jan18 to Sat 05Jan18 with "Sell Outs" and "Standing Ovations" every night. The Island Hall Theatre in Lagan Valley Island is a purpose built venue situated on an island between the Canal and the River Lagan.
A big "Thank You" to the Lambeg Players and especially Della and Jasper McKinney for the "Orange Bucket" fundraiser traditionally at the end of the last two shows. They will always remember the really important support that S.O.F.T. Ireland gave them when their son Joshua was born with T18.
Alex and Paula attended on the Saturday night to enjoy a professional and highly entertaining show. They also represented S.O.F.T. to show our appreciation for their kind gesture. S.O.F.T. got a great "Shout Out" from the stage and big "Write Up" in their programme.
***

Mini Marathon
Team SOFT
Sun 02Jun2019
Ten ladies participated in the VHI Women's Mini Marathon
Sun 2nd June 2019 at 2pm
Well Done to all and for raising much needed funds

***

Bergin Family Butchers
Bergin Family butchers and Brendan were delighted to present the gorgeous Molly and her Mammy Caroline with a cheque for a charity close to their hearts S.O.F.T. Ireland
***
Coffee Mornings
The primary focus is to raise funds for SOFT Ireland, promote our organisation and assure families that we are here to help if or when they need us. When we meet people in our community and share our stories of our special children we often find that some of our neighbours also had special little people in their lives at one time but were never given the opportunity or the time to talk to anyone. Well done to everyone that participated.
Castletroy Park Hotel, Dublin Road, Castletroy, Limerick 14 Feb 2019
Pastoral Centre, Dunshaughlin, County Meath 14 Feb 2019
Bud's Family Resource Centre, Benmore, Ballyduff, Tralee, Kerry 22 Feb 2019
Meadstown, Dunderry, Meath 2nd Dec 2018
***

Newsletter Sponsorship
Peter Grehan presents a cheque on behalf of Tecomet Townparks, Midleton Cork to Paula Doyle from S.O.F.T. Ireland at Family Outing.
Other sponsors
PAT LOVETT CARPETS, 4 Bridge Lane,Tralee, Kerry
WHITLOW FORMWORK, Straffan, KIldare
***
The Echo Women's Mini Marathon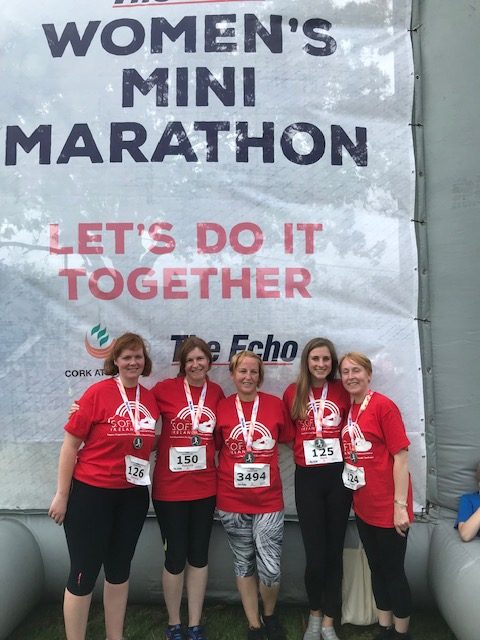 The Echo Women's Mini Marathon, hailed as Munster's premier women's road race, took place this year on Sunday, September 22. Five ladies representing S.O.F.T. Ireland took part and congratulations to them all as they finished well and raised much needed funds for SOFT.