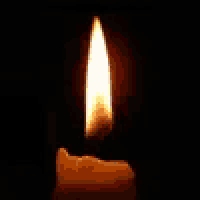 A Christmas Candle
Christmas is an annual festival commemorating the birth of Jesus Christ, observed on December 25 as a religious celebration among billions of Christians around the world
The traditional Christmas narrative, the Nativity of Jesus, portrayed in the New Testament says that Jesus was born in Bethlehem, as per prophecies. When Joseph and Mary arrived in the city, the inn had no room and so they were offered a stable where the Christ Child was soon born, with angels proclaiming this news to shepherds who then spread the word.
Christmas a feast celebrating the birth of Jesus, has evolved into a worldwide religious and secular celebration, incorporating many pre-Christian and pagan traditions into the festivities.
On Christmas Eve placing a single candle in the window was lighting the way for Mary and Joseph on their way to find the stable in Bethlehem. The candle lighting ritual signaled Christmas had finally arrived.
The origins of lighting a candle in the window trace back to the 17th Century at the time of the Penal Laws in Ireland when the Catholic religion was suppressed.
Catholic churches were outlawed and priests hid in fear of their lives. They secretly said mass at secluded venues known as Mass Rocks. Priests often visited homes in secrecy to bless a family and to say Mass.
By lighting a candle in the window they signaled to any passing priest that this was a Catholic home. The doors were unlocked allowing a priest to enter silently to join the family in prayer and say mass for Christmas.
Light a candle on Christmas Eve!