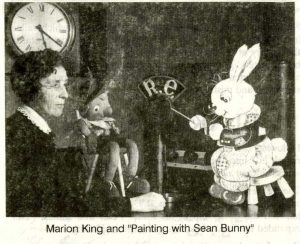 MARION KING
1901 – 1963
Marion King the artist died 60 years ago on 13 July 1963. She is buried in Mount Saint Joseph cemetery in Roscrea Co. Tipperary. Mount Saint Joseph Abbey is a monastery of the Trappist Order of Cistercians Monks. Her brother Jack was a Trappist monk in France.
Inscription on Headstone
Marion King who died 13 July 1963
Sacred Heart of Jesus have mercy on her soul
She desired to repose in death within sacred environs of the abbey church
Marion King was a cartoonist, illustrator and painter on glass. She was born and lived at Mill Street Trim, Co Meath but spent much of her early life with her family in Leeds, England where she studied at Leeds College of Art. She returned to Ireland in 1922 and exhibited in several locations around Dublin during her lifetime (1934 Angus Gallery, St Stephen's Green; 1937 Academy of Christian Art, 42 Upper Mount Street Dublin) but also lived for a time in Paris where in 1936 she exhibited at the Salon des Femmes Peintres and the Salon des Artistes Français. Marion King wrote and illustrated a number of children's books with Irish texts and had a programme on Radio Éireann – 'Drawing and Painting with Marion King' which began in 1943. Sean Bunny, her cartoon-and-story strip in the Irish Times began in 1953 and continued until her death in 1963.
Marion also recorded the programme 'Art Adventures' with Cusahaboo, a Pinnochio-style doll with a feather in his cap, and Sean Bunny, a dungaree-wearing rabbit in the Radio Éireann GPO Studios, Dublin. Marion was a popular presenter of children's programmes in the 1940s and 1950s.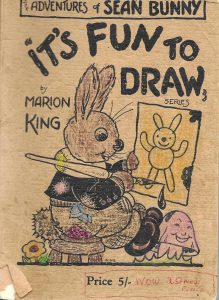 The Marion King presented series instigated an annual exhibition of children's art, the first of which was opened by Minister for Posts and Telegraphs, Erskine Childers. The exhibitions were shown in Dublin and in other centres around the country. Sean Bunny proved so popular a character that he even got his own newspaper cartoon strip 'The Adventures of Seán Bunny' in the Irish Times from 1953 until King's death in 1963. Marion wrote several books which included "GUG", "BABA", "BROIGIN", "TAIMIN", "MAC SPUIN" and "THE ADVENTURES OF SEAN BUNNY".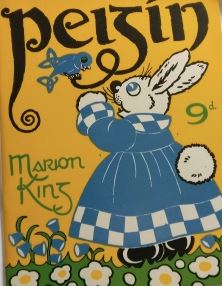 Marion also wrote a book called "PEIGIN". A rabbit called Sean is in this book and Peigin is his sister. This is the same Sean Bunny as in 'Art Adventures' and 'The Adventures of Seán Bunny'. The children of the country loved Marion King. Through her radio show "Drawing and Painting" and another program 'Art Adventures'
Marion's slight speech impediment made her an unlikely presenter but she had a talent for communicating with young people that she remained in the world of children's broadcasting for 20 years. She did not intend to "teach" but that her objective was to awaken the imagination of the children and to encourage them to draw, This all before you had Din Joe dancing on the radio in "Take the Floor" from 1963.
Mount Saint Joseph Abbey is a monastery of the Order of Cistercians Monks of Strict Observance (OCSO), and was founded in 1878. Mount Saint Joseph Abbey is home to a community of a few remaining monks of the Trappist branch of Cistercians.
Cistercian College Roscrea located on the grounds of Mount St. Joseph Abbey is an independent boys' secondary private boarding school.
Marion King was a first cousin of Marcie and Mylo Regan, Newtown Trim. She was also a distant relation of Kathleen Lynch the mother of Paula Doyle S.O.F.T. Ireland. Forever in our prayers.