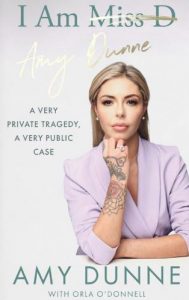 I am Miss D
by Amy Dunne
Author Amy Dunne, with Orla O'Donnell
Publisher Gill Books
In March of last year, Amy Dunne published a memoir called I Am Miss D about her experiences at the heart of one of the most highly emotive episodes that pitted this country's abortion law – now repealed – against the realities of women's lives.
A Very Private Tragedy, a Very Public Case. In this book Amy's tells her heart-breaking story, this time on her own terms.
Barely 17 years old, Amy Dunne found herself pregnant with a baby who had anencephaly, a 'lethal abnormality' that meant the little girl was certain to die at birth, if not beforehand. Amy was temporarily in the care of the HSE and after telling her social worker about her plan to travel for a termination she ended up in the High Court. Although she was supported by her family and by the baby's father, she was told it would not be possible for her to travel. Her private tragedy quickly became an extremely public story, nationally and internationally, attracting vocal campaigners from the pro-choice and pro-life sides and making headlines around the world.
Now in her thirties, Amy is the mother of a young boy who was born the year after the court case. She has moved on in her own life but her account of the way she was treated as recently as 2007 and the shame she felt as a result is devastating.
Amy Dunne is the woman who was known as Miss D during a high court case in 2007 in which she fought for her right to travel for an abortion. Orla O'Donnell is the legal affairs correspondent for RTÉ.
&&&
"All the time I was writing the book, I was reliving all these things that had happened to me and that I had put deep away. I was pretending to myself I was OK. Once the book was out there, I had to talk about everything and relive it yet again, over and over. And then all the attention died down, and I had to face myself.
&&&
"I got so much attention and praise, for a short time," she says wryly. "People saying 'you're so brave, you're wonderful…' And then that was gone. I remember one day going to talk at a Women's Council event, and I felt really great, as though I was speaking up for all women. And then I went home and was in a really dark place."
&&&
"My best friend and my partner both distanced themselves from me. I think for both of them it was fear maybe of being connected to my story. I don't know of any other reason. That was very hard."
&&&
"I didn't realise that books don't make money, I'd like to go back to college and study psychology, but I can't afford to. Not at the moment."
But more than the money side – far more – is the psychological toll. "It could have gone another way, I reached a breaking point through this. And I did break. I rebuilt myself, but I did that alone, without help."​