Vhi Women's Mini Marathon Sun 4th June 23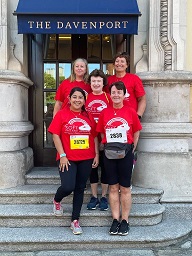 SOFT Ireland
VHI Women's
Mini Marathon
Sunday 4 June 2023 a

t 12:30 pm
Good Day,
Can you believe it's been over two weeks since the SOFT Vhi Women's Mini Marathon?
As of today Friday 23 Jun 2023 fundraising is closed on GivenGain for the Vhi WMM 2023 and collectively we have raised €1,432.69 on GivenGain so a massive congratulations for all your efforts and a huge well done to our fundraisers, donors and participants on such a successful event.
Our SOFT FUNDRAISING CAMPAIGN is now CLOSED

S.O.F.T. Ireland Vhi Women's Mini Marathon 4th June 2023
https://www.givengain.com/cause/20692/campaigns/26151/
Congratulations to Ann, Jane, Caroline, Paula and Natalia for finishing the VHI Women's Mini marathon in Dublin on Sun 04 June 2023. That's it for What's Another Year for SOFT !
The campaign will remain open for donations until end of June and SOFT would like to thank everyone who supported us throughout.
This campaign is coming to a close very shortly before the end of June 2023
BUT!
2024 EARLY BIRD IS OPEN HERE
There's still time to sign up to our 2024 Early Bird price offer!
Tickets are on sale now at €30 plus €3 postage.
This special offer closes this Sunday 18th June at midnight, so check it out before it's too late!

Update for SOFT Mini Marathon Sun 04 June 2023.
Ann, Caroline, Paula and Natalia are all set for Sunday.
The weather looks good and a BIG improvement on last year !
Thank you to all our supporters.
We are meeting at Davenport Hotel beforehand for photo opportunity and briefing.
Keep a look out for the SOFT RED T Shirts winding their way through the streets of Dublin.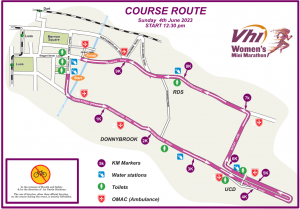 Caroline Dempsey, Mam to Molly is taking on the mini-marathon course and is proud to do this as a way of thanking SOFT for all they do for Molly.
Paula Doyle Mam to Brona in Heaven and current committee member, a long time mini-marathon participant and supporter of SOFT. Paula is looking forward to running and is in good company with Natalia running with her.
Ann Rooney, Mam to Christopher in Heaven and current Chairperson of SOFT, all set to walk faster than ever before!!
Entering the Course on Race Day
We will be sending an email to all our participants next week with details on the entrances for your wave on Race Day. Make sure to check this email out for all the details!
Number Collection Reminder!
If you've opted to collect your race number or pack from one of our number collection venues, don't forget to sign up for a time slot!There are time slots still available at the Intersport Elverys Dundrum and Fonthill venues. You can book a slot here.
*****
Completing 10km is a huge achievement for anyone, and a helping hand or friendly cheer is a welcome boost no matter what your level.
Be sure to keep a look out for the selfie moments along the way to the start line, motivational messages from Vhi along the route, designed to keep encouraging all the amazing Vhi Women's Mini Marathon participants along the way!
There will be plenty of other surprise and delight moments on the day like live music and entertainment, a cheer squad and healthy snacks. Make sure you keep an eye out for Vhi Women's Mini Marathon ambassadors also!
We want to wish every participant the best of luck and to all the committed and dedicated women taking part, we will be behind you every step of the way.
You can do it!
We are participating again in the VHI Women's Mini Marathon on Sunday 04 June next. We hope you can join us and raise much needed funds for S.O.F.T. Ireland.
*****
10K – Do it your way! Walk, jog or run and have fun on the day!
We hope you will encourage your friends, relations, colleagues to sign up at www.vhiwomensminimarathon.ie
The first 10,000 people to enter the event will have the option to receive a commemorative Vhi Women's Mini Marathon t-shirt from title sponsors Vhi. So enter early if you want to get your hands on one of these beauties.
Everyone who enters will receive a 20% discount from Intersport Elverys, if you fancy upgrading your footwear and training gear when you're getting ready for the 10k over the next few weeks.
And everyone who enters is automatically entered into a draw to win a fabulous Italian holiday from Topflight.
Both the training plans and recipes are now available on www.vhiwomensminimarathon.ie to ensure you are fully fuelled and prepared ahead of Race Day.
Make sure you follow @VhiWMM #VhiWMM on social media for training and cooking videos, support, competitions and much more!
For the 6th year running, Vhi are refunding all of their members who enter the Vhi Women's Mini Marathon. Vhi members can use the online claiming tool, 'Snap & Send', via the Vhi app to claim their refund from their entry fees, available until the 31st of December 2023.
Finally make sure to let SOFT Ireland know that you have entered by emailing soft.fundraising@gmail.com
The VHI Women's Mini Marathon is linked to GivenGain for fundraising.
We can send you SOFT t-shirts etc. and you and your friends can donate online HERE
Or GO to
You can also set up your own Project from this CAMPAIGN page.
Sponsorship cards are also available for those who prefer the traditional way!
See our posts on SOFT Ireland News and Facebook.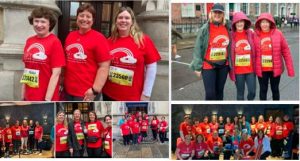 Intersport Elverys Discount
Take off into a new year of running with @intersportelverys. Official Retail Partner to the Vhi Women's Mini Marathon. Get 20% off instore and online today when you sign up to the Vhi Womens Mini Marathon
Topflight Competition
Everyone who enters this year's event is automatically entered into a draw to win a fantastic September getaway to Tuscany from Topflight.
GivenGain
GivenGain are a unique, not-for-profit fundraising platform on a mission to ensure charities retain 100% of donations. That's why we're subscription-free and have an optional donor-covers-the-fee model (98% do). We don't make a profit out of your fundraising and believe that's the right way to do it.
To help kick things off, we've created a new campaign page so we are all set up and ready to go.
Entries Are Open
It's time to dust off your runners and get ready for the 2023 Vhi Women's Mini Marathon. Entries are now officially open for the biggest and best day out of the year!
Taking place in Dublin city centre on Bank Holiday Sunday 4th June, we have lots of fun and entertainment in store for all you lovely ladies this year.
Our CAMPAIGN is now OPEN
Create a Project on GivenGain to personalise your fundraising
How to create a project
Go to GivenGain SOFT Ireland section by Clicking on
https://www.givengain.com/cause/20692/campaigns/26151/
Go RHS of photo on SOFT Ireland Vhi Women's Mini Marathon 2023
Click "Start Fundraising" below "Donate Now!" button
If you have created a project before the just login as "Fundraiser"
Login with your email and previously created password for GivenGain
If new then Not yet registered? Then Clich on CLICK HERE on page.
When logged in you will see your previous projects.
But Create a New Project
Click on Skip this step, I'm not fundraising as part of an event
Choose a charity to support
SOFT Ireland
Select
Edit on RHS "Mary is raising funds for SOFT Ireland" (Take out the "I am" to personalise it and make it identifiable.
Edit Story with your own story and save at bottom.
Example
"I am (Mary is) raising funds for SOFT Ireland in memory of ……. who was born with Patua's/Edwards' Syndrome Trisomy 13/18."
Change "I am" to "Mary is" (your own first name" to identify you better or everyone else will just see "I am"
Edit Target and Days to Go as required
No need to set up a Thank You as Project will automatically will send out Campaign one.
Then click on Looks good "Make it Live" and you can edit as required.