Roderic O'Gorman launches "Why Our Baby" Book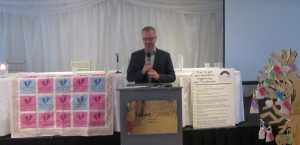 Roderic O'Gorman
Launches SOFT Ireland
"Why Our Baby Book"
Roderic O'Gorman (Minister for Children, Equality, Disability, Integration and Youth) was honoured to speak at the Support Organisation for Trisomy (SOFT) Ireland 30th Anniversary and launch their 'Why Our Baby" book. He is a Teachta Dála (TD) for the Dublin West constituency since 2020.
"Why Our Baby?" has been written by parents who had a baby with either
Patau's Syndrome or Edwards' Syndrome. It succeeds "Why Our Baby?", which was published in 2008. This book contains a significant amount of information on Patau's Syndrome and Edwards' Syndrome.
Patau's Syndrome (Trisomy 13) and Edwards' Syndrome (Trisomy 18) are chromosomal disorders. Babies diagnosed and born with these syndromes often have serious life-threatening conditions, with developmental delay and a limited life expectancy