SOFT Trisomy 18 Trisomy 13 "Stay At Home" Virtual Quiz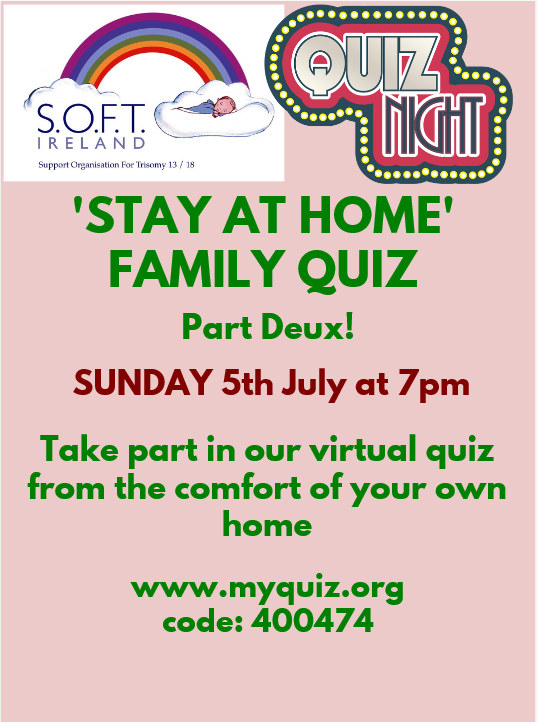 Sunday 5 July at 7pm
SOFT Ireland invite their members, families and friends
to participate in
Google "Trisomy 18"
Find and Click on SOFT Ireland for 10secs to raise our profile
Sun 5 July 19:00
100 Multiple Choice Questions on General Knowledge, Sport and Music as well as a few picture questions!
A little bit of escapism for all during these times, so gather the family around and see how many questions you can get right!
From any device logon to
On the landing page enter the code:
400474

and

JOIN
Accept

Cookies and also Privacy Policy
Are you over 16 Years Old?
YES
Give your team a
NAME

in box below Nickname and

Join
You will now be ready to start at Quiz Page..
This event is organised by SOFT Ireland the Support Organisation for Trisomy 13 and Trisomy 18 in Ireland, is a voluntary group dedicated to providing support for families of children born with Patau's Syndrome (Trisomy 13), Edwards' Syndrome (Trisomy 18) and related chromosomal disorders. Support is provided during prenatal diagnosis, during the child's life and after the child's passing.