The John Treacy 10-Mile Run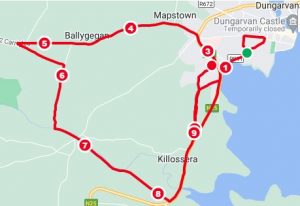 The John Treacy
10-Mile Run
Sunday 5th February
at 11 am
Youghal Road, Dungarvan
Update
Good weather in Dungarvan today Sun 05 Feb 2023 for the annual John Treacy 10-Mile Run helped Julie, Kate, Moya, Sarah & Triona complete this prestigious event. Congratulations and also Thank You to everyone that donated! It surpassed expectations to say the least!
Moya and her friends are doing this run and raise funds for Oscar, who is part of our SOFT family. Wishing them good luck and only a week to go!
If you would like to donate please see the GoFundMe Link below.
Please come out and support them on Sunday 5th February at 11 am at the Youghal Road Dungarvan. Donations, big or small will make a big difference to this cause.
Triona Broderick, Julie Harty, Kate Higgins, Sarah Higgins, and Moya Verling will run the John Treacy 10-Mile Run for Oscar on Sunday 5th February 2023, in Dungarvan and will help to raise funds for Oscar Fitzgerald who is an amazing 6-year-old boy with severe disabilities and complex medical needs. This is very close to their hearts as they are family and friends of Oscar, who is a gorgeous little boy born with a rare genetic condition: Trisomy 13/Patau Syndrome. (https://www.softireland.com) Little Oscar needs 24-hour care and has complex medical needs. Oscar was only expected to live for a number of weeks, but recently turned 6 years and is at a point where he needs more advanced levels of physical intervention. Oscar's family is trying to raise funds for a bedroom conversion and intensive physical therapy.
"This is one of the biggest races in the southeast of Ireland and fast times are assured. What makes this race special? Perhaps it's our generous "goody bag" containing the now famous dri-fit Nike top, the great course, good value, support along the route, first big race of the Spring? Who knows but each year it sells out and we are grateful to all our supporters over all the years. We look forward to seeing you all again in the Déise on February 5th.
The John Treacy Dungarvan 10 brings together the ideal race combination of fun runners, joggers, club athletes and top class internationals who compete over a fast flat 10 mile course around the historic town of Dungarvan, we look forward to welcoming you to our town on February 5th 2023."