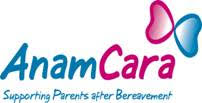 Anam Cara
Wed 09 February 2022 at 7pm
*****
Anam Cara
Thankfully we are near the end of January and will soon notice the evenings getting brighter and longer as Spring approaches. On behalf of Anam Cara I wanted to let you know the details of our upcoming Online Bereavement Information and Support evening for bereaved parents only taking place on
Wednesday 9th February 2022.
Starting at 7pm, our guest speaker is Brid Carroll. Speaking from both her personal loss and professional experience in supporting families members after the death of their child, she will give an insightful talk on parental grief and its impact for families. This will be followed by a 'Question and Answers' opportunity with Brid.
For this online event, in our breakout rooms, we are delighted to be joined by other national organisations offering bereavement support to bereaved families in Ireland who have suffered loss of a baby, sudden death of a child age 0-18 and families who have been bereaved by suicide. These are Féileacáin, Firstlight and HUGG – Healing Untold Grief Groups.
Please note this online support evening is open to all bereaved parents, regardless of the age of their child or the circumstances of their death
To help us organise this evening, we have set up an Eventbrite page for parents to express their interest in attending this online event. The link to this for parents, just click on this
If you have any questions about this event or about Anam Cara's resources and the online and face-to-face groups for your area, please get in touch on l.milligan@anamcara.ie or call 085 2888 888.
Take Care and Kindest Regards, Leanne
*****
*****
Anam Cara facilitates a series of Bereavement Information Evenings throughout the year
Websites
www.anamcara.ie
or
www.anamcarani.co.uk
have a number of resources available for including a set of videos made by bereaved parents for bereaved parents
Call the Information Line 085 288 8888 or info@anamcara.ie or Anam Cara Northern Ireland please call 028 9521 3120
Please note that these events are open to bereaved parents only.
As Anam Cara will need to confirm numbers for teas, coffees etc, please RSVP to info@anamcara.ie