Cork Echo Women's Mini Marathon 2019
Cork Echo Women's Mini Marathon 2019
Deirdre Barry, Patricia Grehan, Sheila O'Regan, Sara Collins, Rosie Collins
The Echo Women's Mini Marathon, hailed as Munster's premier women's road race, took place this year on Sunday, September 22. Five ladies representing S.O.F.T. Ireland took part and congratulations to them all as they finished well and raised much needed funds for SOFT.
Chip timing was used with great success. This means that everyone gets their own individual finish time and an individual medal
"Awesome Atmosphere and a great buzz "
"Was well organised"
"It's a much more achievable distance 6Km"
"I will enter again next year"
"This is one of the best occasions in sport in Cork"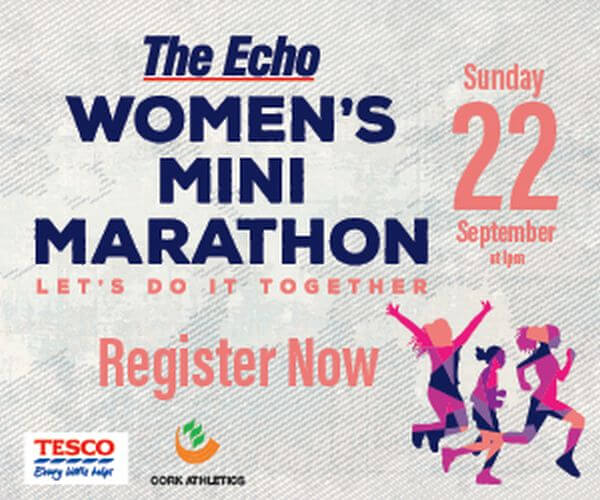 Cork Echo Women's
Mini Marathon 2019
Sun 22 Sep 2019, 13:00
38th Annual Echo
Women's Mini-Marathon
Centre Park Road, Cork
*
This event is organised and hosted by Cork Athletics
This course was measured by John Quigley, AIMS/IAAF Grade 'A' Measurer
Walk, jog or run 10K in aid of S.O.F.T. on Sun 22 Sep. It's up to you but most walk it! Friends, relations and colleagues can participate in the Cork Mini Marathon for SOFT.
Echo Women's Mini Marathon
The Echo Women's Mini Marathon is the biggest event of its kind in Munster. It has grown from its beginnings in 1980, with only 300 participants, to over 10,000 participants in recent years
There is a wonderful atmosphere and it's a great experience.
It will be a great day out and SOFT will benefit.
Let S.O.F.T. Ireland know that you have entered by emailing
soft.secretary1@gmail.com
We will send a T- shirt, Sponsorship card and merchandise to you.
Feel free to tell friends, relations and colleagues etc.