Family Outing Sat/Sun 11/12 March 2023 Update
S.O.F.T. Ireland Family Outing
Sat/Sun 11/12 March 2023
Lady Gregory Hotel
Gort Co. Galway
Donna Taggart – Jealous Of The Angels (Official Music Video) – YouTube
SOFT had our Family Outing in the Lady Gregory Hotel,Gort,Co.Galway on Saturday/Sunday 11/12 th March and we know you've missed the last few get togethers so we were delighted to see you all on this occasion.
Our family outing took place this Saturday/Sunday 11th/12th March 23 at the Lady Gregory Hotel, Gort, Galway. The Tribute Book was on Display. A new SOFT Newsletter Archive Book was on display. Why Our Baby Book and Pre natal Leaflet were on Display and available.. The Family tree was on display with names. Family Quiz on Saturday evening was a great success and with a get together to catch up.
Remembrance and Living Ceremony on Sunday Morning. Reading of Poems.. Memento of terracotta flowerpots & saucers with begonia bulbs. These were painted with names of special children. Children"s Art. by children painting various SOFT themes sketches.. Special SOFT Cake supplied by Theresa Meehan went down well.with refreshments.
Met at 8:30pm on Sat evening
Met at 11:30 am on Sunday morning
We had a family table quiz planned for Saturday night and our remembrance ceremony on Sunday morning.and more …
This event was an opportunity to catching up with people in person.
This was an opportunity for a recharge and avail of this very competitive offer!
Slideshow of Family outing 2023 to follow soon!
a
a
a
a
Lady Gregory Hotel
The Lady Gregory Hotel, celebrating over 18 successful years in business, has become one of the finest hotels in County Galway. Our beautiful 3-star hotel boasts 87 guestrooms over 3 floors and provides our guests with a top quality experience. A warm, friendly welcome awaits you here at the Lady Gregory Hotel. We are located in Gort, which is an ideal location for those who which to explore the hidden gems of Galway City and Connemara.
SWAN LEISURE CLUB at The Lady Gregory Hotel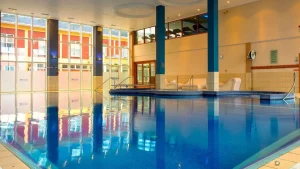 The state of the art Swan Leisure Club at the Lady Gregory Hotel boasts facilities that are among the best in Galway and the Country.
About Our Leisure Club & Facilities Included
Whether you are looking for weight loss, motivation, strength training, relaxation, toning or general wellbeing, at the Swan Leisure Club we have the resources, skill and staff to assist you in achieving those goals. Whatever you want in your leisure time, it's here.
Things to do in Gort
Make sure that you have this email address soft.secretary1@gmail.com in your email contacts list.