Vanessa's Coffee Morning Ballyduff Kerry Update
Vanessa'sCoffee Morning
In aid of S.O.F.T. Ireland Ballyduff Kerry
Thurs 16 Feb 2023
10am to 1pm
*****
Update
Over €3K raised for S.O.F.T. Ireland Charity thanks to BUD's FRC in Ballyduff
"Bud's Family Resource Centre in Ballyduff were kept busy last Thursday morning as a result of a fundraising coffee morning held in aid of the the S.O.F.T Ireland charity.
Vanessa Meehan from Bud's was the main organiser of the event and she is someone who has been receving support from S.O.F.T Ireland for almost 30 years and so it's an organisation, it's a cause that's very close to Vanessa's heart.
She said this week that she was delighted with the amazing turn out as friends from near and far came to join her for cuppa and a chat." Kerryman 23Feb2023
This event was very successful and exceeded al expectations!.
Provisionally it has raised over €3500 and still counting!
Well Done to all!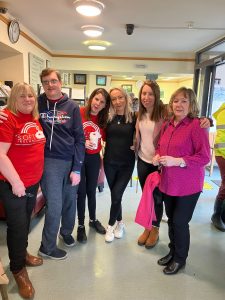 Vanessa's Coffee Morning Kerry for SOFT took place in Bud's Family Resource Centre, Benmore, Ballyduff, Tralee, Co. Kerry on Thurs 16 Feb 2023 10 am until 1pm. An enormous amount of effort has been put in for this occasion and many thanks to the staff, volunteers, Theresa and Vanessa for their efforts. Michael D "Items" knitted by Theresa will go down well! ….Bud's Resource Centre had all the teas and coffee … People from Tipperary and afar came along to support. Local community turned out in force to supported event. Was on Facebook and the Web and local paparazzi were present! … Here's to Michael D and hoping that there was one for everybody in the audience!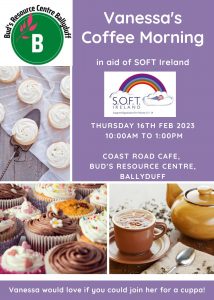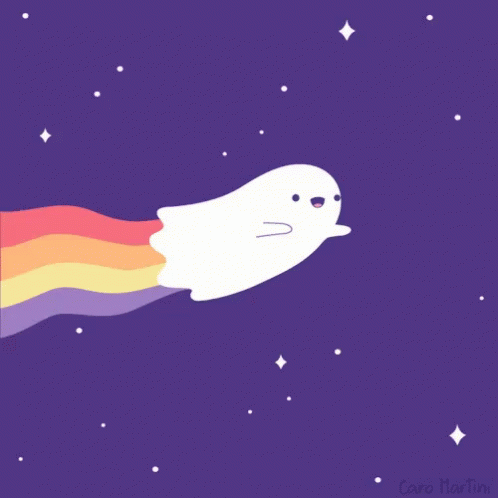 The Ghost of Vanessa's Coffee Morning!