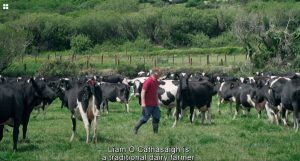 Saol Na Feirme RTE 1
Mon 06 March 2023.
From 17 Min in…
Featuring
Liam O Cathasaigh a traditional dairy farmer and SOFT member as well as Mairtin O Cathasaigh his son and Ros Na Run Star!
Beginning on the Waterford coast with brother and sister Jamie and Mairead Costin who each farm in their own distinct ways. Mairéad runs a vegetable enterprise while Jamie is a progressive dairy farmer.
Seachtain na Gaeilge le Energia (1-17 March 2023) is an international Irish language festival and one of the biggest celebrations of our native language and culture that takes place each year in Ireland and in many other countries.
During Seachtain na Gaeilge, the Irish language is celebrated around the country and abroad. The main aim of the festival is to promote the language as well as inspire and encourage people to speak or learn Irish, even if it's just cúpla focal!
Irish phrases that you can use
Dia duit. Meaning: "Hello" (literal translation of "god be with you") …
Slán. Meaning: "Goodbye" with (literal translation of "safe") …
Craic agus Ceol. Meaning: Fun and music. …
Go raibh maith agat. Meaning: "Thank you" with a literal translation of "may you have goodness" …
Sláinte. …
Tá