SOFT Ireland Melbourne Marathon 2022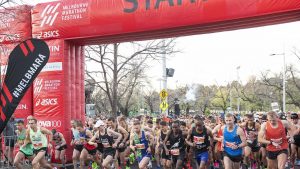 Melbourne Marathon 2022
Sunday 2 October 2022
42.195km
Good Luck to Michael in the Melbourne Marathon.
Estimated Start Time in Irish Time Sat 01 Oct 2022 21:00
Congratulation to Michael Rooney on finishing the Melbourne Marathon.
Well Done on raising funds for SOFT!

See result

HERE
This cause will close in 7 days
Start Time 7:00am (Daylight Saving Time Starts on Race Day!)
SOFT Ireland are supporting the Melbourne Marathon 2022 for a reason.
Watch out for Projects created off this cause and all will be revealed!!!
We are prepared to go the distance for this one and have recruited Team Melbourne.
Be a part of Australia's largest marathon and race alongside marathon legends. Circle around Albert Park Lake, Flinders Street Station, pass the St Kilda beach foreshore and cross the finish line at the MCG to cheers from supporters, family and friends. The Nike Melbourne Marathon is a competitive, adrenaline-filled race for those experienced in marathon running who want to set a PB on our fast and flat course, and is also perfect for first-timers and less experienced marathon runners.
How to create a project
Press Donate above or go to https://www.givengain.com/cause/20692/campaigns/25197/
Go RHS of photo on SOFT Ireland – Melbourne Marathon 2022
Click "Start Fundraising" beside the "Donate Now" button
SIGN UP WITH Google or create an account with EMail
Don't Fundraise as part of an event as this is a Cause only.
But CLICK on
"Skip this step, I'm not fundraising as part of an event"
This will bring you to the project page and you can edit as appropriate
Edit Story with your own story and save at bottom of page
Example
"I am (Michael is) raising funds for SOFT Ireland in memory of ……. who was born with Edwards' Syndrome Trisomy 13/18."
Change "I am" to "Michael is" to identify you better as everyone else will just have "I am"
Then click on Looks Good make it live and you can edit afterwards as required.
To edit a project
Login to Project, Click on your name Top RHS, Click on My profile
Click on Photo below featured project
Click on Camera icon to change Photo
You can upload .jpg or .png files with minimum dimensions of 643×390 pixels and a maximum size of 5MB per image.
Click on Updates below photo on RHS to add an update including a photo.
This will be emailed to all donors.
Click on EDIT on RHS to edit Target (Ideally above your current level)
Click on EDIT on RHS to edit Currency (Ideally in Euro in ROI and GBP in NI)
Click on EDIT on RHS to edit Deadline (Ideally a month beyond your event to allow for late Donors)
Don't forget to click on SAVE at bottom of page