GivenGain Campaign for SOFT Pre Natal Leaflet Appeal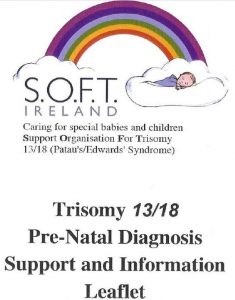 GivenGain Campaign for
S.O.F.T. Ireland Pre Natal Leaflet
Please Donate €20
And Request
FREE Complimentary Copy of
"Why Our Baby?"
This campaign in now paused and thank you for you for your donations and cooperation
SOFT Ireland is appealing to the General Public to show your support with a small donation (€20) to our charity during August 2022 to help us continue our work by producing a new Pre – Natal leaflet, help distribute to our Maternity Hospitals and promote our "Why Our Baby?" book. Also some businesses are looking at how they can make a positive social impact. Well here is an opportunity. This new SOFT Pre – Natal Leaflet will be ready to be printed soon and will be launched at out Autumn Break/AGM Weekend 7/8/9 Oct 2022. This offer of posting you a book is limited subject to availability until end of August.
Our revised leaflet is at print stage going to print soon and will be launched at our Autumn Break in October.
By the way see some updated stories on website www.softireland.com
Just type "Please send book" in comments on GivenGain

We will send a FREE "Why Our Baby?" book to everyone who donates €20. But you have to input your request in COMMENTS section while donating and request book. Any money raised will help distribute and promote the Leaflet especially in the Rest of Ireland. SOFT members can still get a copy of "Why Our Baby?" and the Pre – Natal Leaflet at Autumn Break or at any other SOFT event throughout the year.
Just type "Please send book" in comments on GivenGain

Support Organisation For Trisomy (S.O.F.T.), a national registered charity, is a voluntary group dedicated to providing support, assistance and information to families of children diagnosed and born with Patau's Syndrome (Trisomy 13) and Edwards' Syndrome (Trisomy 18). Support is provided during pre-natal diagnosis, during the child's life and after the child's passing. Fundraising and donations are our main source of income and that is very challenging in these difficult times