The National Maternity Bereavement Experience Survey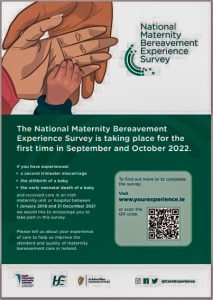 The National Maternity
The HSE response to the findings of the National Maternity Bereavement Experience Survey 2022 is

HERE

SOFT Ireland would like to thank everyone involved
"A dedicated National Women and Infants Health Programme (NWIHP) was established in 2017 by the Health Service Executive to lead and manage the implementation of the National Maternity Strategy 2016 – 2026, Creating a Better Future Together1. The NWIHP welcomes the National Maternity Bereavement Experience Survey findings and acknowledges the important part the feedback provided will play in developing a roadmap for systematic improvement of bereavement services and care experiences for women and their partners in to the future. We are aware that for many women and partners, participating in this survey and reliving what was undoubtedly a hugely traumatic time in their lives, was difficult. We would like to take this opportunity to sincerely thank you for your open, honest and frank contributions to the survey which will enable us to ensure an improved care experience for others who sadly experience a pregnancy loss."
Ms Angela Dunne National Lead Midwife (NWIHP)
The loss of a baby and the grief that follows is one of the most difficult and traumatic journeys women, partners and families can experience.
We know that many parents wish to talk about their loss and the care and support they received during this difficult time.
The National Maternity Bereavement Experience Survey is the first national survey asking women and their partners about the bereavement care they received in an Irish hospital following a pregnancy loss or perinatal death.
Women and their partners who experienced a second trimester miscarriage, the stillbirth of baby or the early neonatal death of a baby between 1 January 2019 and 31 December 2021 and received cared in an Irish maternity hospital/unit can fill out the survey on www.yourexperience.ie The survey closes on 31 October 2022.
The National Maternity Bereavement Experience Survey aims to give a voice to parents bereaved by pregnancy loss and pave the way for improvements to the standard and quality of maternity bereavement care in Ireland.
The survey is being carried out by the National Care Experience Programme — a partnership between the Health Information and Quality Authority (HIQA), the Health Service Executive (HSE) and the Department of Health.
To find out more about the survey and the eligibility criteria visit www.yourexperience.ie