Newsletter Sponsorship Appeal
SOFT Ireland would like to thank Regan McEntee & Partners Solicitors, Trim and Ace Plant & Tool Hire, Drogheda, Ardee and Ashbourne for sponsoring our Newsletter – Their support is very welcome and enables us to keep our good work in that area ongoing. The SOFT Newsletter rates highly with our members and keeps them updated.
Our eagerly awaited Newsletter will be posted to all members and will be dropping through your letterboxes in July. It's in the new A5 style and full colour and will be filled with information, stories, outings, fundraising, photos and a great deal more. It's a great way to communicate with our members. The feedback is very positive. A special thank you to our Newsletter Sponsor last year.
We are appealing for business or corporate sponsors again to help defray our costs in these financially challenging times.
Suggest contributions of €250 upwards (less for individuals) would be most welcome.
This will be acknowledged in the Newsletter.
Then please respond to
soft.newsletters@gmail.com

before 30 May

and

that would be great.



*************************
It's that time of year again where we give a shout out for SPONSORS NEEDED! and this year it's more difficult putting this post out there especially with the Covid19 pandemic.
We are currently working on our annual SOFT Newsletter, which is a huge undertaking for us. Our SOFT Newsletter is a fabulous production and provides a lot of support to many families around the country.
In the past 3 years we have been blessed with our sponsors.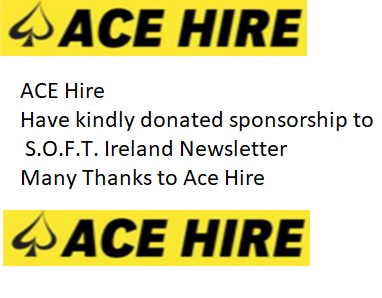 Last year Ace Hire came on board who kindly supported us by helping sponsor the publication & distribution costs of the Newsletter and in return the sponsor got to advertise their logo in the newsletter and an acknowledgement.
If this is something you or your workplace could assist with we would be very grateful to hear from you please email:
Alma at soft.newsletters@gmail.com
*****************************************
SOFT Newsletter 2020 ……………………………….. Front Page and Back Page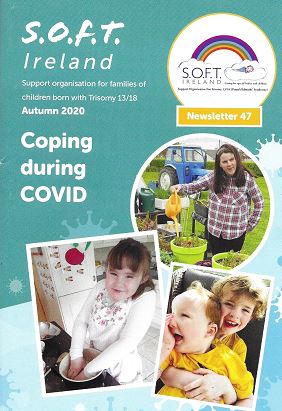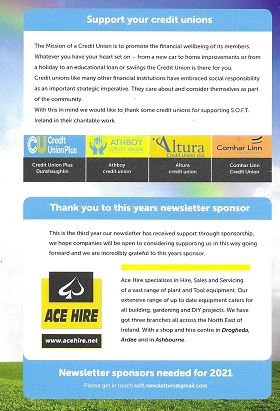 SOFT Newsletter 2019 ……………………………….. Front Page and Back Page